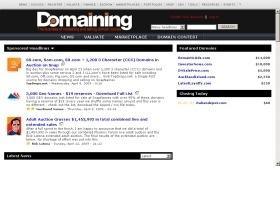 This week's featured site is Domaining.com.  If you have been into domaining much at all then you have probably seen or heard about this site.  Domaining.com is a consolidation of domain news headlines and blog posts from across the industry.  In addition it also has listings of domains for sale including domains up for auction across multiple venues.
If you sign up for an account on their site (which is free by the way) then you will get their daily email containing the top domain name headlines.  In addition you can fill out your profile information and you will be listed on their sister-site domainers.org which contains an A-Z listing of domainers.  If you are looking to get another link to your site then I encourage you to sign up and setup your profile.
To stay updated on the latest domain happenings I always read the latest news sent out from Domaining.com.  If you are viewing headlines on their site you can filter the listings so that you only view the posts from those you are most interested in.
Check it out and see what great information you can find to help with your domaining endeavors!
Be sure to check out the latest domains I have for sale on eBay.  You can view all of my listings here.